The Carter Center said Tuesday that only 13 human cases of guinea worm disease were reported worldwide last year.
After decades of progress, the director of the eradication program warned that the final phase of the global effort to eradicate the parasitic disease will be "the most difficult".
The Atlanta-based center, founded by former President Jimmy Carter and his wife, Eleanor Rosalynn Carter, said the remaining infections occurred in four countries in sub-Saharan Africa. Six human cases were reported in Chad, five in South Sudan, one in Ethiopia and one in the Central African Republic, which remains under investigation.
DAVOS CONFERENCE SPEAKER SAYS CLIMATE CHANGE, MALARIA ARE CONNECTED, AS IS INFLATION AND TB
This is a significant drop from when former President Carter began leading the global eradication effort in 1986, when the disease infected 3.5 million people.
The figures, which are provisional, are expected to be confirmed in the coming months.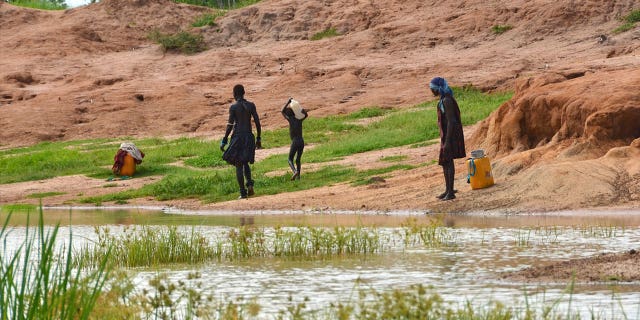 "We're really in the middle of that last mile, and we're experiencing firsthand that it's going to be a very long and arduous last mile," Adam Weiss, director of the Carter Center's Guinea Worm Eradication Program, told The Associated Press. "Not so much that it's going to take more than the next seven years, five to seven years, but just knowing that it's going to be slow to get to zero."
Guinea worm affects some of the world's most vulnerable people and can be prevented by training people to filter and drink clean water.
MONKEYPOX IN THE NUMBERS: FACTS ABOUT THE RARE VIRUS THAT IS CURRENTLY SPREADING
People who drink dirty water can ingest parasites that can grow up to 3 feet. The worm incubates in people for up to a year before painfully emerging, often through the feet or other sensitive parts of the body.
Weiss said populations where guinea worm is still present are prone to local insecurity, including conflict, which can prevent staff and volunteers from going door-to-door to implement interventions or provide support.
CLICK HERE TO GET THE FOX NEWS APP
"If we take our foot off the gas in terms of trying to accelerate to zero and support these communities, there's no question you're going to see an increase in guinea worm," Weiss said. "We continue to make progress, even if it's not as fast as we all want it to be, but that progress continues."
Guinea worm is poised to become the second human disease to be eradicated after smallpox, according to The Carter Center.