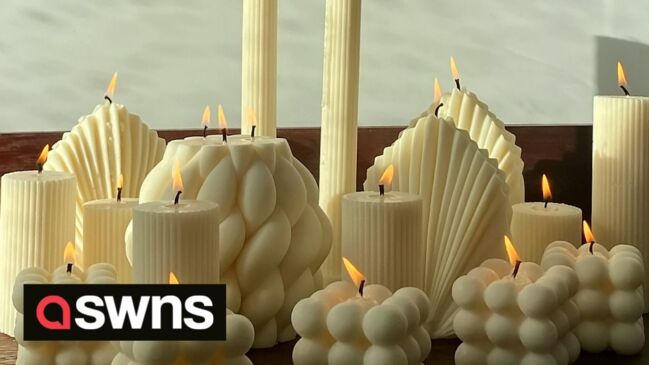 Ukrainian refugees whose business launch was stalled by the Russian invasion have finally achieved their dream after fleeing to the UK and setting up a candle shop.
Best friends Anna Shturmak, 28, and Nastya Berest, 25, moved to the Ukrainian capital Kyiv last January to open a candle shop.
But when Vladimir Putin's invasion of their homeland began, they were forced to flee the country for their own safety.
The couple moved in with a host family in Didsbury, Manchester, last May and have now successfully set up VIRA, a candle business.
When Nastya and Anna moved to England, they "didn't understand or know anything" about starting and running a business in the UK.
But since launching their business in November, they've had numerous orders and even have plans to create two new collections.
Anna said: "We didn't understand or know anything when we came here and English is not the first language, so we also had problems with English.
"It was hard to be honest for the first five months."
He added: "We found it very difficult at first because it's a new country and there are different rules about money.
"We met an accountant who is also Ukrainian, but she has been living here for about 20 years and she helped us a lot.
"She taught us to be independent and she taught us taxes.
"We were also able to ask our family for help in everything."
Nastya and Anna make all the candles from scratch, buying the candle wax from a British supplier and melting it themselves.
They then pour it into molds and let it form into one of their many designs, including a shell, a wave, and a cube.
Since launching just over two months ago, Anna said the pair have had "lots of orders", which has been "very exciting" for them.
She said: "Before Christmas, we had a lot of orders and it was very exciting for us.
"The different people ordering keep us busy and that helps us enjoy doing this."
Despite moving to England, friends have said they want to return to Ukraine.
But in the meantime, they have plans to expand the business by bringing out two new collections in the coming months.
Anna said: "It's very difficult to talk about the future because we want to go home, of course, but we've decided to settle here for now.
"But we want to do a new collection for Valentine's Day and then have another one out in March.
"We also want to start making soap."
Liz Neitherdt, 40, welcomed the business owners into the home she shares with her husband Matt, 40, and their three children Grace, ten, Joseph, seven, and Patrick, four .
He said that when the women moved in, they had a "very basic understanding" of English and couldn't even understand Liz's Scouse accent.
Liz said: "When they came Anna could speak basic English but Nastya wasn't so sure and I think they came with a very basic understanding.
"It went out the window anyway because I pronounce bath and glass differently, so for the first month I had to say it in my accent and then say it in the Queen's English.
"We also used a translation app quite a bit, and just lived off of it."
Liz paired up with the women in a Facebook group for people who wanted to give a home to Ukrainian refugees, and has now said she is "very proud" of her business.
She said: "As a family we are very proud of them.
"We had no expectations, we thought they would want to cooperate again.
"Their life has already kind of stopped because they're not at home and they've had to come here, but they're not letting that get in the way.
"They're just moving forward with their ambitions and their dreams because it would be so easy not to be in this situation, but they've followed through anyway."
You can visit Anna and Nastya's shop here https://www.virahello.com.