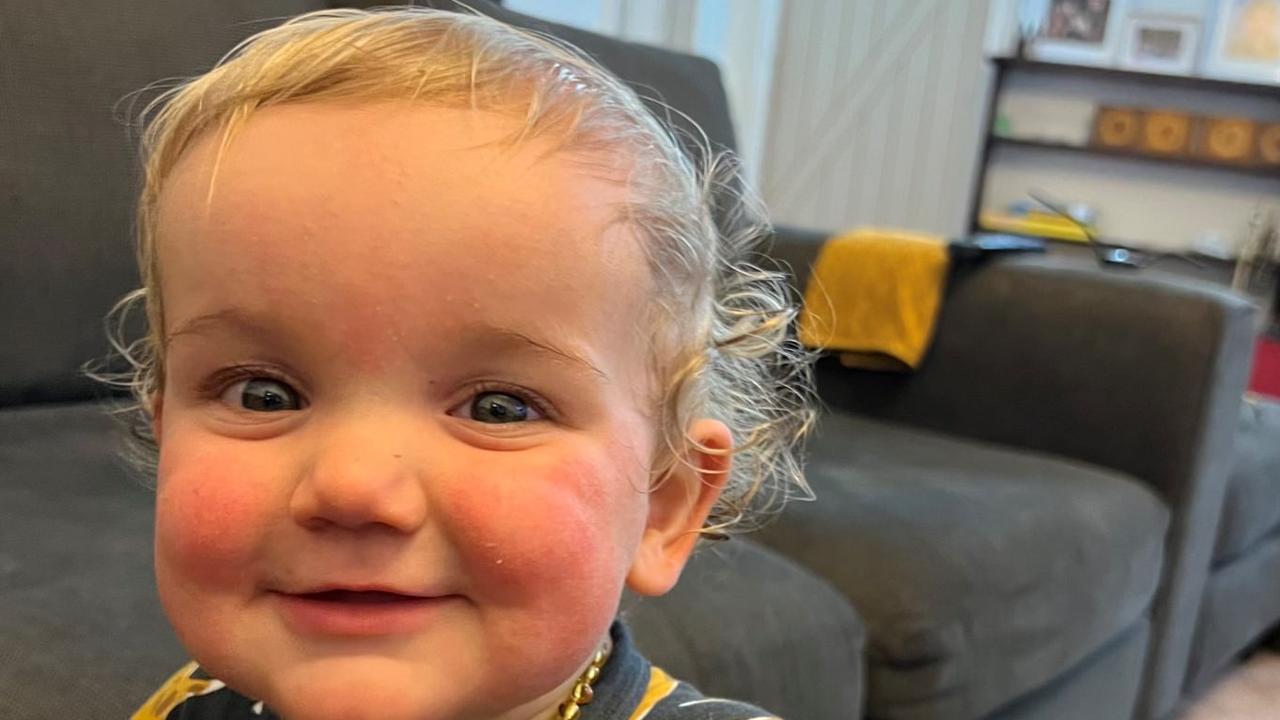 A baby born with a life-altering tumor has had his first real Christmas after a "miracle" saved him from having to have his arm amputated last year.
Mother Christine Rose from Victoria's Mornington Peninsula was preparing to welcome her third baby into the world at the end of 2021, but she learned something no parent wants to hear after she was sent for extra tests at 38 weeks
Their son, baby Vann, would be born with a rare but large tumor that accounts for less than 1% of childhood cancers.
"I had little movement one morning and I went to the hospital for a little check-up and my OB sent me for an ultrasound," she said.
"They took a big lump, from memory it was nine by six centimeters, coming out of his left wrist, like pulling his thumb away."
Doctors swung into action to help the boy, sending Mrs Rose for more tests and inducing her into labor a week early to try and make sure she was okay.
However, it wouldn't be until she was born that they would see the full extent of the tumor, according to Dr Peter Downie.
"It was a very large mass, really filling from the wrist to well above the elbow," Dr Downie said.
"You couldn't really tell if it was straight bone and muscle or if it came from between the bones of the forearm."
Baby Vann had to undergo tests as soon as he was born to determine what type of cancer it was, a rare tumor called congenital infantile fibrosarcoma; however, the mass had already begun to wreak havoc on the young family.
"He had all the basic MRI, an X-ray and an ultrasound of the tumor the day he was born and then we sat down really well (when more tests could go through)," he said.
"I say I sat down, but we just watched this thing grow pretty quickly over the weekend."
Vann's nurses and doctors had to constantly monitor the massive growth to make sure it didn't become infected.
"When tumors grow aggressively and grow to that size they tend to go through the skin, so you have bleeding and all kinds of complications," Dr. Downie said.
"They're very difficult to manage because you can't stop the bleeding, and you have to dress them and keep them clean because there's a risk of infection."
Dressing changes were done every 12 hours to make sure the tumor didn't break Vann's skin, as it was so large even when he was just four days old.
"Unfortunately, he moved his arm during one of the bandage changes and it split the tumor at one of the points where his artery was … I was there that morning and it was pretty intense," Ms Rose said.
After Vann's birth, his parents were faced with the heartbreaking decision of playing through chemotherapy or having his arm amputated at the shoulder.
However, the family doctor had been working with the Zero Childhood Cancer initiative to try to get baby Vann access to precision medicine, a new type of treatment that it was hoped could help shrink the tumor.
"This is one of the tumors that has a specific mutation that caused it, and the mutation can be targeted by precision medicine, so a specific drug can lock in where the mutation is and turn it off," he said. said Dr. Downie.
The drug works by using genetic and genomic tests to paint a picture of the cancer and tailor treatment to a person's DNA based on understanding how the tumor behaves, according to Bayer, the pharmaceutical company that supplied Vann's treatment.
Dr. Downie had been told it could take up to eight weeks for the tests to see if Vann was a match, an extended wait over the Christmas holiday period, but luck was on the family's side.
"We had to give Peter (Downie) and his team an answer if we wanted to play and do the trials and possibly take weeks and weeks, he didn't say we wouldn't, we would have to wait weeks watching him grow. " said Mrs. Rose.
"We pretty much went in to talk about the amputation and how that would work, but I had spoken to the people in Sydney about the tests and they said they would prioritize it and try to do it within a week."
Battling the growing tumor, Dr. Downie said he threw "everything into organizing as quickly as possible" to see if Vann was right for treatment.
It was on Christmas Day that they would learn of Vann's fate, with Dr. Downie traveling to the hospital to give the family the good news.
"He actually left his family to come in and explain to us … we went into the hospital and he had left all the paperwork, signed, filled out and ready to go," Rose said.
"It was obviously a Christmas surprise, it was unbelievable for him to leave his family on Christmas morning to come in and see us and go to this trouble."
Dr. Peter Downie then contacted Bayer's medical team on December 28, 2021, seeking urgent access to precision medicine that had not yet been included in the Pharmaceutical Benefit Plan, i.e. , was not publicly and easily available.
Bayer's medical team worked through the holiday shutdown period to secure compassionate access to the drug for baby Vann in just three days, which Bayer's chief medical officer, Eduardo Pimenta, said is part of the job. .
"It was a very stressful situation for baby Vann and his family and times like this should be celebratory, with a new baby at Christmas," she said.
"We're here to help doctors and help patients, that's the joy of our job, to be a part of the outcome, our Christmas present to this baby was to be a part of it."
The family then waited with bated breath to see if the drug would shrink the tumor in her arm, and the results surprised her doctors.
"This was the next miracle, nobody knew what to expect, Dr Downie had said it could take anywhere from two hours to two weeks to notice anything," Ms Rose said.
"After three doses of the drugs, one of the nurses said I should stay for a dressing change because it looks completely different and the tumor is literally starting to dissolve."
Dr Downie said he had rarely seen anything like this in his time in medicine.
"I don't like to use the word miraculous, but it's actually because this thing went from being a big blob of discomfort to what you're seeing now, which is nothing," he said.
A year after treatment, Vann's tumor is completely gone, and the only sign of the test is a small scar on his wrist.
"He was a happy patient and a resilient child, even in hospital he never complained," Ms Rose said.
"He would just go along with what everyone else was doing and he never caused a fuss and he's pretty much been the same ever since.
"He's super happy, just wants to be in everything and gets all the attention from his big brothers."
Mrs Rose now says this Christmas is the complete opposite of the past, with the whole family together all day.
"Everyone is obviously very excited, last Christmas was incredibly bleak but now it's amazing," he said.
Originally published as Christmas miracle drug that saves baby's arm from tumor