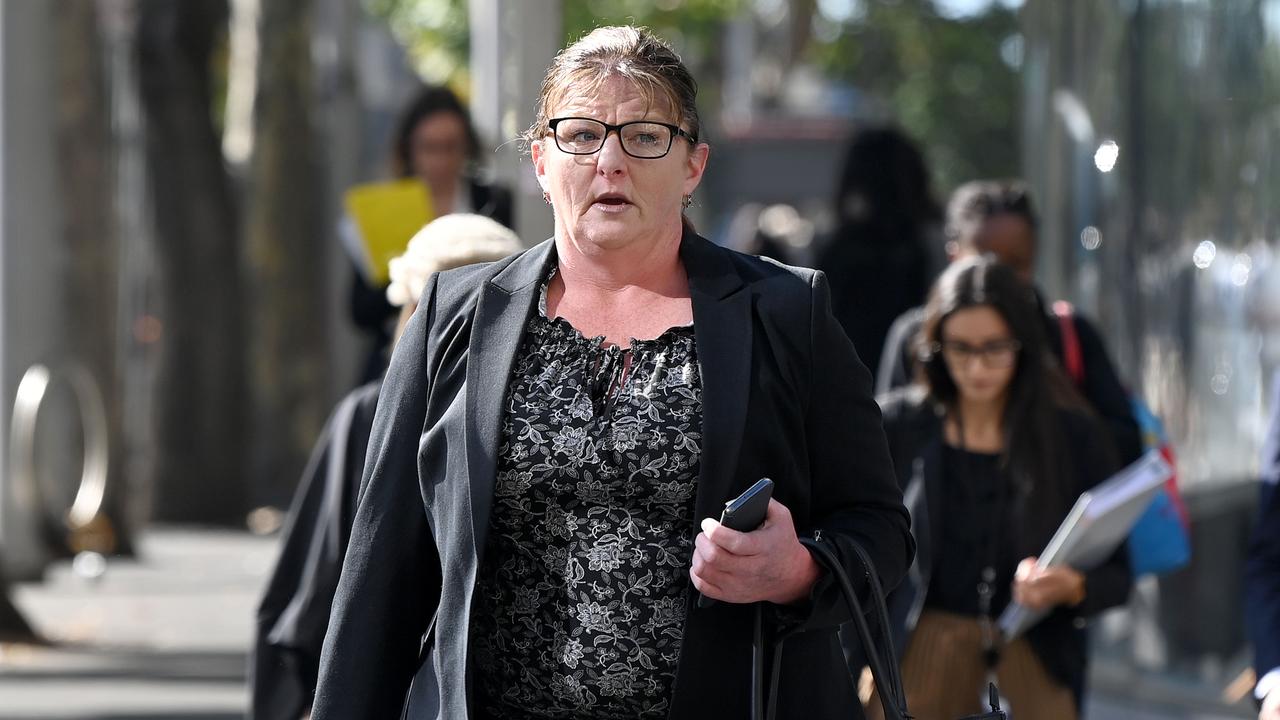 A woman has been jailed after leaving her ex-husband covered in faeces and lice while he battled cancer at home.
In a long-awaited conclusion to a 10-year quest for justice, Libby Jade Baker was sentenced to at least three years behind bars in the NSW District Court on Friday.
The 44-year-old was found guilty of manslaughter last year after a single-judge trial found she was criminally negligent for failing to care for Johnathan Young in the months leading up to his death.
The 58-year-old had spent five months in Baker's care as he battled rectal, liver and kidney cancers before he died on October 16, 2012.
He was largely immobile and had difficulty communicating after suffering two debilitating strokes during the year, the court was told.
When a community service worker visited the North Richmond home in June, the court heard she was overwhelmed by the "pungent smell of faeces and rotting flesh". He observed that Mr. Young's "skin was hanging from his bones."
He was covered in lice and painful sores when he was admitted to hospital just 11 days before his death. An expert testified that Mr. Young had probably been subject to the untreated lice infestation for four to six weeks.
Medical professionals were dismayed by his condition, with one nurse commenting that he "looked dead". The court heard Mr Young's eyes were sunken and his body was covered in dark injuries when he was admitted.
Health workers said the 58-year-old man was severely malnourished and had dried excrement encrusted on his legs, the court heard. He hadn't showered properly in weeks.
Several witnesses told the court he was "emaciated", while a nurse observed he "looked like a skeleton".
When the 58-year-old was admitted to hospital shortly before his death, he was "noted to be in an advanced stage of starvation", Judge Deborah Sweeny said.
One police officer was "surprised she was alive given her condition" and another said she smelled like she was already dead.
Mr Young had necrotic, pus-filled and infected wounds over much of his body, which an expert stated would have taken weeks to become infected.
One of the wounds was deep enough to expose muscle, while another pressure injury cut through to bone. The court heard that many of the injuries were the result of not moving properly and inadequate wound care.
"The injuries required medical attention before they reached the state they were in and that medical attention was not given," Judge Sweeny said.
She noted that Baker had attended many of her ex-husband's medical appointments with him and was aware that he was bedridden and "physically unable to take care of himself."
However, Mr Young had not seen a doctor in the two months before he was hospitalized in a terrible condition.
Judge Deborah Sweeny found Baker failed to provide her ex-husband with adequate food, hygiene and medical care, leading to his death.
The court heard that she could have engaged community nursing services or a medical practice where she previously worked for assistance to care for Mr Young, but she refused.
"She said she was ready and able to care for Mr Young at home with his extensive care needs," Judge Sweeny said.
"She paid very little attention to Mr. Young."
The judge criticized Baker's "negligent" behaviour, although he noted that the 44-year-old had been addicted to heroin at the time.
She began using heroin before she began caring for Mr Young in 2010, but the court heard her drug use had accelerated following the tragic death of her mother, who was severely beaten by her couple and murdered.
Although the court heard he was trying to get off drugs, his lawyer accepted he had "not been fully rehabilitated since 2012".
On Friday, Judge Sweeny sentenced the bankrupt carer to five years in prison with a non-parole period of two years for negligently breaching her duty of care to her ex-husband.
She can be released on December 20, 2025.
Baker has already signed his intention to appeal the ruling.
Originally posted as Negligent carer convicted of leaving sick ex-husband covered in lice and excrement