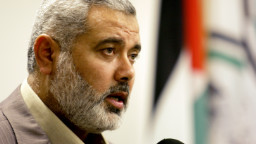 CNN
–

Here's a look at Ismail Haniyeh, Hamas leader in Gaza.
Date of birth: 1962
Place of birth: Shati refugee camp, near Gaza City
Father: The father was a fisherman
Marriage: Amal Haniyeh
Children: 13
Education: Islamic University of Gaza, 1987
Religion: muslim
1987-1988 – He joins Hamas, during the first intifada.
1988 – Imprisoned for six months.
1989 – Sentenced to three years in prison.
1992 – Released from prison and deported to Lebanon.
December 1993 – He returns to Gaza and is appointed dean of the Islamic University.
1997 – He becomes an assistant to Sheikh Ahmed Yassin, leader of Hamas.
September 2003 – Haniyeh and Yassin are slightly injured when an Israeli airstrike hits them in Gaza City.
April 2004 – After the deaths of the two previous Hamas leaders, Haniyeh is named part of a secret "collective leadership" with Mahmoud Zahhar and Said al-Siyam.
January 26, 2006 – Hamas wins landslide victory in Palestinian legislative elections. Hamas wins 76 seats and Fatah 43 seats in the 132-seat Palestinian Legislative Council, giving Hamas a majority.
February 21, 2006 – The president of the Palestinian Authority, Mahmoud Abbas, asks Haniyeh to form a government.
March 29, 2006 – Sworn in as Prime Minister of the Palestinian Authority.
December 14, 2006 – Haniyeh survives an assassination attempt on the Egypt-Gaza border. However, one bodyguard was killed and one of Haniyeh's sons was injured. Hamas blames Fatah for the attack.
Early June 2007 – After a week of battles between Hamas and Fatah, Hamas takes control of the Gaza Strip.
June 14, 2007 – Abbas dissolves the government and dismisses Haniyeh as prime minister. Haniyeh rejects this and remains the de facto leader in the Gaza Strip.
June 2009 – Former US President Jimmy Carter meets with Haniyeh in Gaza to discuss the Middle East peace process.
June 13, 2010 – Haniyeh meets Arab League Secretary Amr Moussa in Gaza. Moussa is the first senior Arab leader to visit Gaza since 2006.
May 2, 2011 – He condemns the killing of Osama bin Laden in Pakistan, referring to him as a Muslim holy warrior and a victim of American oppression.
October 23, 2012 – He is meeting with Qatari Emir Sheikh Hamad bin Khalifa al-Thani, the first official head of state to visit since Egypt and Israel instituted a blockade in 2007.
April 4, 2013 – Haniyeh is named deputy head of Hamas and Khaled Meshaal is re-elected head.
May 6, 2017 – Chosen by the Shura Council of Hamas to replace Meshaal.
December 7, 2017 – In response to US President Donald Trump's recognition of Jerusalem as the capital of Israel, Haniyeh calls for a Palestinian "infitada" or uprising to fight the Israeli "occupation".
January 31, 2018 – The United States designates Haniyeh as a Specially Designated Global Terrorist.
December 8, 2019 – Haniyeh arrives in Turkey, the first stop of a tour. It is his first international tour since he was elected in May 2017.
January 6, 2020 – He is speaking at the funeral of Qasem Soleimani, the leader of Iran's Islamic Revolutionary Guard Corps' Quds Force, who was killed by a US airstrike in Iraq on January 3. Haniyeh praises Soleimani as a martyr.
August 1, 2021 – Hamas officials announce that Haniyeh has been re-elected as leader.
October 13, 2022 – Palestinian factions Hamas and Fatah agree to a reconciliation deal brokered by Algeria. Their aim is to pave the way for the elections. Haniyeh releases a statement saying the movement is satisfied with the meetings with Fatah officials to end the division.